After years of being the-Google-phone-with-the-great-camera, and a weird testbed for features like the "bathtub" notch on the Pixel 3 and Soli radar sensor on the Pixel 4, Google finally has a clear vision for what the Pixel is: an AI/ML phone. With a new custom chip, Tensor, the Pixel 6 and 6 Pro are not the most powerful phones, but they may well be the smartest.
Do you want the smartest — err — smartphone around? But also: Does Google's expertise in AI/ML mean the Pixel 6 and 6 Pro's cameras put the iPhone 13 Pro and Galaxy S21 Ultra cameras to shame? We went all out to find out. The proof is in the pictures.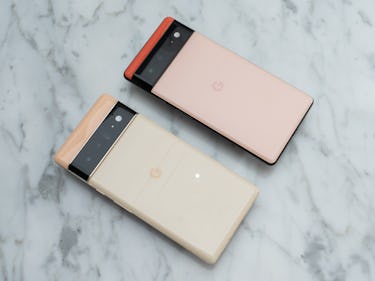 You can disagree, but I think the Pixel 6 and 6 Pro look stunning. The colors ("Kinda Coral" and "Sorta Sunny" are the only colors that matter), the premium materials, the camera bar — the backsides very distinctly do not resemble other phones. Even the recycled translucent cases are sleek and pair well.
The Pixel 6 and Pixel 6 Pro differ in a few ways:
Design: Matte aluminum vs. polished aluminum
Display: 6.4-inch flat OLED vs. 6.7-inch curved LTPO OLED
Resolution: 2,400 x 1,080 vs. 3,120 x 1440
Refresh rate: 90Hz vs. 120Hz
Battery: 4,615 mAh s. 5,003 mAh
RAM: 8GB vs. 12GB
Storage: 128/256GB vs. 128/256/512GB
Rear cameras: No telephoto vs. 48-megapixel 4x optical zoom telephoto
Front camera: 8 megapixels vs. 11 megapixels
Here's how the Pixel 6 and Pixel 6 Pro are the same:
Software: Android 12 with Material You
Charging: Fast 30W wired / Wireless Qi / Reverse wireless charging
Rear cameras: 50-megapixel f/1.9 wide + 12-megapixel f/2.2 ultrawide
Biometric: In-display fingerprint sensor
Durability: IP68 water and dust resistance
These are big phones with big screens, and they're thick, too. The Pixel 6 Pro is considerably lighter than an iPhone 13 Pro Max and S21 Ultra. The displays on the iPhone 13s and Galaxy S21s are brighter, which makes HDR video even more vibrant, but you wouldn't notice it unless you did a side-by-side comparison; the Pixel 6 and 6 Pro displays are excellent. I question how bright our phone screens need to keep getting — everyone turns the brightness down to conserve power, anyway.
We could debate the merits of flat displays versus curved, bezel thickness, refresh rates, resolution all day long. But these are still phones, and while I like most of what Google's serving up, there are some basic phone things that could be better. Like the placement of the power button. It's too high up and not as easy to press compared to the iPhone 13s, S21s, and OnePlus 9s. All of them have power buttons that are lower with the volume rocker above them or on the other side. I don't have huge hands so I'm always shimmying the phones in my hand to reach the power buttons, and it gets annoying fast.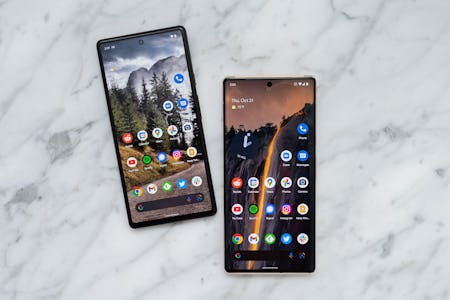 The Pixel 6 (left) has a flat OLED display compared to the Pixel 6 Pro (right) which has a larger curved screen.Evan Rodgers / Input
The haptics are also different — better on the Pixel 6 Pro than the 6. The Pixel 6 Pro's haptic motor is positioned near the bottom of the phone so it buzzes your palm; it's a strong vibration. The Pixel 6 has a motor that's near the top so it vibrates near the camera bar; it feels weak because it's farther away.
The Pixel 6 and 6 Pro are the first Pixels with in-display fingerprint readers. They're slow on both phones; I had more failed unlocks than on the S21 Ultra or OnePlus 9 Pro. There's also no face unlock of any kind. I know, face unlock on Android is less secure than Face ID on iPhones, and it's less useful when you're wearing a mask. But I love the speed of opening my phone with my face. It would have been nice to have the option given how unreliable the fingerprint reader is.
All of the other stuff is rock solid. Good to see you, IP68 rating and reverse wireless charging. I will say, I was disappointed there's no longer a charger in the box; previous Pixels came with a fast charger. You only get a USB-C-to-USB-C cable and a USB-A-to-USB-C adapter. I'm not even sure why the USB adapter is included anymore since the cable is USB-C on both ends; a headphone jack dongle would have been better.